Pastor Brent Berg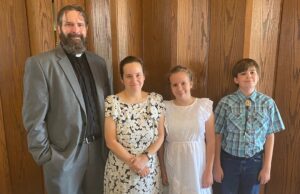 Pastor Brent Berg was installed at Trinity Lutheran on July 17, 2022.  He spent his childhood in Shakopee, MN, and then lived in Pavillion, Wyoming as a teenager.  He joined the army after high school and served four years in the infantry and then the rest of his enlistment as an Apache helicopter mechanic.  After 20 years of military service, he left his home church in Tullahoma, TN to attend the seminary in St. Louis.
Pastor Brent graduated from Concordia Seminary in St. Louis in May 2022.  Along with his wife, Tina, and their two youngest children, Abel and LeeAnna, he moved to Auburn to serve Trinity Lutheran.  Pastor Brent also has four adult children and five grandchildren who live in Tennessee, Wyoming, and Missouri.
Pastor Brent and his family love being outside and exploring God's wonderfully created world.  Some of their favorite activities are camping, hiking, fishing, and hunting.  Pastor Brent finds joy in serving with and equipping other Christians to spread the Good News of Christ's love and forgiveness.  He loves being a part of a strong church family who can depend on each other and are ready to go into the world and serve others.
Church Office
Office Secretary:  Laurie Clark
Officers
Chairman: *John Ackerman
Secretary: *Judith Ruskamp
Treasurer: *Richard Tanderup
Financial Secretary: *Ken Riley