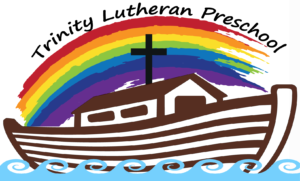 All eight students participated in the 2023 preschool closing program on May 17. Teachers Samantha Dean and Kelly Allen did a great job all year. The students impressed their families with several songs they learned and the recognition they received at the program. Pastor Brent closed out the program with prayer conducted in the style which he used throughout the year during chapel time. Five graduating students (going on to kindergarten) each received a New Testament Stories for Children book from the congregation. Board of Education members provided and served refreshments after the program.
Enrollment for the 2023-24 school year is now open!
If you know of anyone interested or looking for preschool, please have them contact Trinity's Church Office at (402)274-4210 or TrinityLPreschool@gmail.com. The form below can be printed, filled out, and then sent to the Church Office with registration fees.  Thank you, and have a blessed day!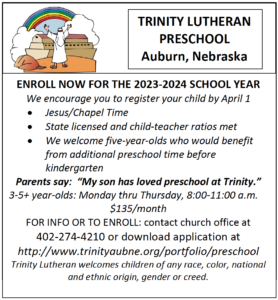 Trinity Lutheran Preschool's philosophy in working with young children is based on the core values listed in the National Association for the Education of Young Children. Whereas parents provide the primary influence in the development of the child, the Christian teacher as a role model, witness, and servant also seeks to meet the needs of each child. The teacher adapts curriculum, teaching methods and structure so that the needs of the developmental whole child are met – physically, intellectually, socially, emotionally, aesthetically, as well as spiritually.
Trinity offers children, who are eligible for kindergarten within the next two years, a class to prepare them for kindergarten.  Preschool is taught at Trinity Lutheran Church as one class for 3, 4 and 5+ year-old children.  The class runs Monday through Thursday from 8:00am-11:00am.
Curriculum: The purpose of Trinity Lutheran Preschool is to give your child a Christian environment in which to grow in self-esteem and develop at his/her individual rate of spiritual, emotional, mental, social and physical growth. Throughout the school year, assessment of your child is conducted through a portfolio that showcases your child's proficiency in the Nebraska Early Learning Guidelines.
During the school year, your child will experience activities involving the following:
Jesus Time
Arts and Crafts
Large/Fine Motor Skills
Health and Safety
Creative Play
Music
Reading, Writing, and Math Readiness
Learning Colors and Shapes
Please visit our Facebook Page (link below), too, for updates on the fun stuff we're up to!  Go ahead and "Friend" us for the most recent info - we will be happy to share!